As women age, they go through a lot of physical changes, including wrinkles, sagging skin, and age spots.
While these changes are natural and inevitable, they can also cause a loss of confidence and self-esteem.
However, there are many beauty tips that can help older women look and feel their best.
Here are 9.5 effective beauty tips for older women.
Stay Hydrated:
One of the most important beauty tips for older women is to stay hydrated.
Drinking plenty of water throughout the day can help keep your skin moisturized, which can reduce the appearance of wrinkles and fine lines.
Additionally, staying hydrated can help flush toxins out of your body, which can promote overall health and wellbeing.
Moisturize:
As we age, our skin loses moisture, which can cause it to become dry and dull.
Therefore, it is important to moisturize your skin regularly, especially your face and neck. Look for moisturizers that are designed specifically for mature skin and contain ingredients like hyaluronic acid, vitamin C, and retinol, which can help boost collagen production and improve skin elasticity.
Use Sunscreen:
Sun damage is one of the main causes of premature aging.
Therefore, it is crucial to protect your skin from the sun's harmful UV rays by using a broad-spectrum sunscreen with an SPF of at least 30.
Apply sunscreen every day, even when it's cloudy or overcast, and reapply every two hours if you are spending time outdoors.
Opt for Lightweight Makeup:
As we age, our skin tends to become drier, which can make heavy makeup look cakey and settle into fine lines and wrinkles.
Instead, opt for lightweight, hydrating makeup products like tinted moisturizers, BB creams, and cream blushes, which can provide a natural, dewy finish.
Focus on Your Eyes:
As we age, our eyes tend to become smaller and more hooded, and our eyelashes can become thinner and sparser.
To make your eyes appear larger and more youthful, apply a nude or white eyeliner to your waterline, curl your lashes, and use a volumizing mascara to add fullness.
Choose Soft, Warm Hair Colors: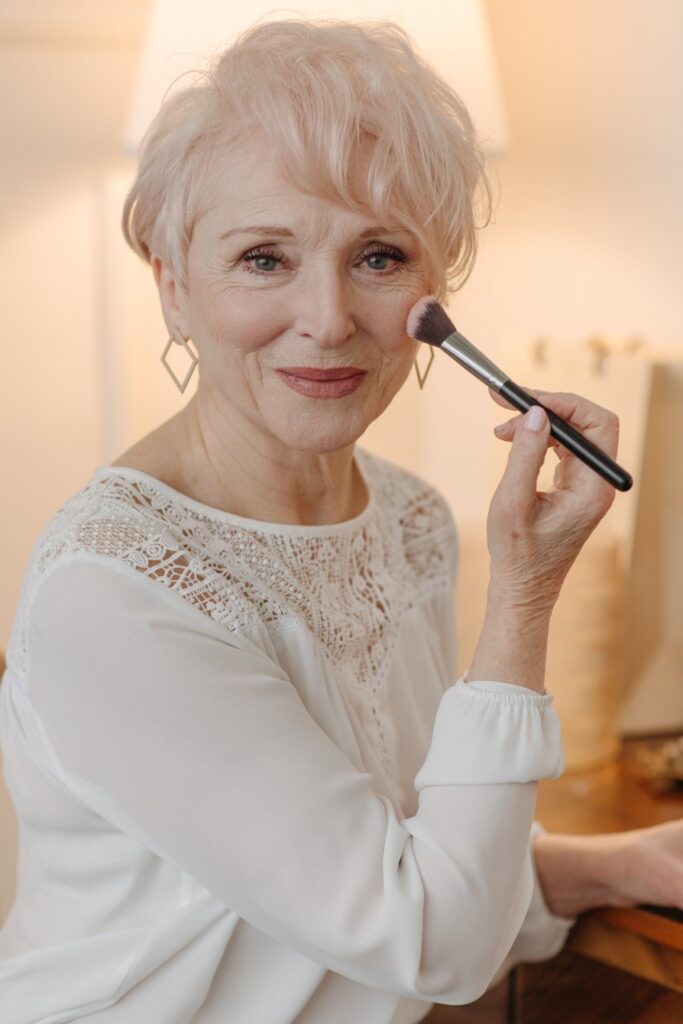 As we age, our hair can lose pigment, which can make it look dull and lifeless.
Therefore, it is important to choose hair colors that complement your skin tone and bring out your natural features. Soft, warm hair colors like honey blonde, caramel brown, and chestnut can help brighten up your complexion and make you look more youthful.
Don't Be Afraid to Experiment:
Just because you're getting older doesn't mean you have to stop experimenting with new beauty products and techniques.
Try out new makeup looks, hairstyles, and skincare products to find what works best for you.
You might be surprised at how a small change can make a big difference in how you look and feel.
Get Plenty of Rest:
Getting enough sleep is crucial for maintaining overall health and wellbeing, but it can also have a significant impact on your appearance.
Lack of sleep can cause dark circles, puffiness, and dry, dull skin. Therefore, it is important to get at least seven to eight hours of sleep every night to help your body and mind rest and rejuvenate.
Eat a Healthy Diet:
What you eat can have a big impact on your appearance, especially as you age.
Eating a healthy, well-balanced diet that is rich in fruits, vegetables, whole grains, and lean protein can help nourish your body from the inside out, giving you a healthy, youthful glow.
Exercise Regularly:
(Half a tip cause it's short) Exercise is not only good for your overall health and wellbeing, but it can also help you look and feel more youthful.
Summary:
Staying active and keep a healthy lifestyle is crucial for your looks. If you keep doing even a small part of the above tips, you will see results.
If you like our tips try some of our tutorials:
Best cc cream for mature skin – Find out which cc cream is best for you
Best foundation for aging skin over 60 – Foundation is the base. make sure you're using the right one.
Best primer for mature skin – Primers are very beneficial to some types of skin. Find out if you need one or which one to use.
Concealer that doesn't crease – So many women are looking for concealers that don't crease – we're making it easy for you.