TL:DR – If you're not into reading, just scroll down to find our list of the best CC creams for Mature skin
One day you wake up and look into the mirror only to realize that you're not only aging in number, your skin has also started showing typical aging signs.
Every phase of aging skin brings new challenges.
You might have something great for your skin in your 30s and 40s that won't work out in the 50s and 60s.
Your skincare and makeup preferences change with every passing decade. If you're 60 or over, you might have seen a decline in your skin's elasticity and plumpness.
Well, hello, mature skin!
What to expect when you turn 60? You might have brown spots, wrinkles, fine lines, uneven skin tone, and no solution.
Your old makeup techniques might not be able to give you a sheer full coverage and perfect look, making your aging signs peek through your base.
Does that mean you have to give up on makeup? Fortunately, you're living in 2022, and there is always a solution to every skin puzzle.
Here comes the CC cream as your savior!
What Is a CC Cream?
CC cream or complexion corrector (or color corrector) is something that lies between a foundation and a BB cream. Also has primer qualities.
As the name suggests, CC cream helps cover hyperpigmentation and uneven skin tone and gives you full coverage.
We often get confused about CC cream and mix it with BB cream, the lightest. CC Creams are like tinted moisturizers but give you a lot more coverage than a BB cream.
They also have anti-aging ingredients that help correct the aging spots with their usage over time.
Not all of us like foundation coverage, so we look for a lighter option. For mature skin, foundations sometimes become cakey due to fine lines and wrinkles. But a CC Cream is way more lightweight. It keeps your skin moisturized with its hydrating ingredients and gives you coverage that conceals all the flaws of your mature skin.
How To Choose a CC Cream For Mature Skin?
We know that it's pretty much difficult to look for that perfect product that is suitable, if not do wonders, for your skin
Now, if you have mature skin, searching for a makeup product becomes a whole new thing.
You can't just choose anything that's meant for your face. A skin that's been through a lot for over 60 years deserves to be treated gently.
There is a need to understand the onset of your aging process and decide accordingly.
Can a CC cream replace a foundation?
In most cases yes, it has an amazing coverage but apparently it works even better as a color corrector and primer before the foundation.
Using a CC cream as a primer will allow you to smoothen your face, correcting imperfections and fine wrinkles.
Which is better for mature skin – CC cream or BB cream?
That question is something we hear a lot. In most cases CC cream would be better for aging and mature skin.
It actually contains a lot more anti aging ingredients (such as anti-oxidants).
Here are some stuff that are in CC Creams:
SPF Protection
Nobody can sit at home due to the fact that their skin is aging.
So what you can do is find a CC Cream that has maximum SPF protection to keep your delicate skin away from all kinds of damage due to UV rays.
These rays have done enough damage to your skin that could be seen in the name of wrinkles, fine lines, and brown spots.
Mature skin needs more SPF protection to save it from further damage.
You'll have to decide the level of SPF according to the climate of where you live. It could be somewhere between 10-50 or more.
Anti Aging Ingredients
A CC Cream with anti-aging ingredients can do wonders for your dull skin.
It's better to look for components that pave the way for skin rejuvenation – Retinol, Hyaluronic acid, Vitamin C and E, Collagen, and others that keep your skin moisturized.
5 Best CC creams for Mature skin
There are many brands out there for every product. While choosing a CC cream, there is a high chance that you might get confused.
We have listed some CC Creams that would become your obsession in just a few usages.
IT Cosmetics Your Skin but Better CC+ Cream
Let's open our list with the award-winning CC cream that's literally a holy grail for many mature skins due to its hydrating and nourishing ingredients.
Your acne, redness, blemishes, dark circles, and wrinkles will be minimized due to constant usage.
What makes it best of all is that it also provides 50 SPF protection to keep your skin away from sun damage.
Olay SPF 15 Total Effects CC Cream
What could be a better option than a brand that is the voice of anti-aging products? Yes, we are talking about Olay Color + Correction CC Cream!
Packed with 7 powerful vitamins and antioxidants, this Olay CC cream will rejuvenate your skin on a molecular level.
It'll make your pores diminish and help reduce the discoloration stressing you out for so long.
Physicians Formula Super CC+ Color-Correction + Care Cream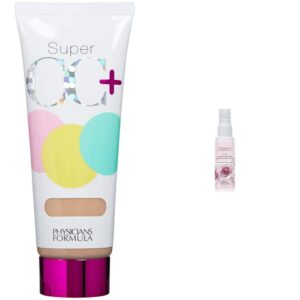 Now, If you're looking for a cruelty-free brand, Physicians Formula is the brand that one could think of.
Formulated carefully for sensitive skin, this Physicians Formula Super CC+ Color-Correction + Care Cream is the ultimate skin color corrector and flaws fixer
like wrinkles, blemishes, and fine lines. It is packed with micro correcting pigments and high-tech anti-aging ingredients that could help your skin glow from within.
Not to mention the cool looking tube 🙂
CLINIQUE Moisture Surge CC Cream Hydrating Color Corrector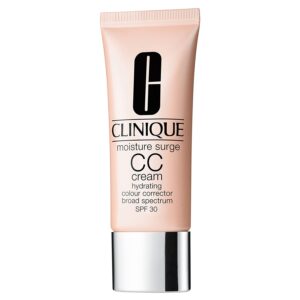 Free of parabens and sulfates, the CLINIQUE Moisture Surge CC Cream Hydrating Color Corrector will give your skin oil-free hydration.
Redness and dullness will be reduced as this CC cream blurs all the aging signs of mature skin with SPF 30.
Its formula is best for the skin that is dry and has fine lines. You'll only need a few drops, a very thin layer, to build a high and bendable coverage.
Juice Beauty Stem Cellular CC Cream SPF 30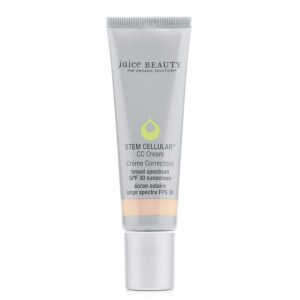 Some of us are followers of 'Go All Organic.' So, if it sounds like someone like you, check out Juice Beauty Stem Cellular CC Cream SPF 30!
You'll be amazed to find the most organic ingredients like Coconut oil, Apple juice, Vitamin E, and C, and your skin will be grateful for choosing this magical product.
The reason is that it instantly radiates your skin for a healthy look and provides SPF 30.
What's next?
CC creams work best as a primer for mature skin but can be used as a foundation. The popularity of CC creams is soaring since it has a great coverage and does a great work hiding and smoothing.
You might want to prep up your skin – read our Best peel-off face mask review followed by best primer for mature skin vs. our top foundation for mature skin reviews. You also might want to check out our best under eye concealer review.
If you're looking for tips and tutorials, get a glimpse at our beauty tips for older women
If you have any question or recommendation, feel free to drop a comment below;
What did you take from this post?