TL;DR – if you're just looking for the bottom line – Scroll down for detailed review with images to choose the best under eye concealer that doesn't crease.
Makeup lover or not, concealer is one such product that many gravitate towards. It's practically an essential in every woman's bag.
It's the perfect cover-up for blemishes, random breakouts, and those permanent dark circles.
But not all concealers are created equally or look good on all skin types.
As we age, the skin around our eyes is the first area where fine lines and wrinkles make an appearance as the skin is delicate and sensitive.
We need to revaluate our concealer choices as we get older, but it is totally understandable if you're not sure what's best for your mature skin.
You definitely don't want to invest in a hyped-up pricey concealer only to have it creasing, flaking, drying up, or showing your dark circles after a couple of hours.
Besides, a concealer that isn't compatible with your mature skin tends to show up visibly on your raised skin and dark spots.
The whole point of a concealer is to help cover, hide and conceal unwanted dark circles, discolorations, or blemishes on your face.
Therefore, picking the right concealer for your mature skin is super important!
Brands have now started to manufacture concealers aimed at mature-skinned women.
The concealers have moisturizing agents and potent ingredients that help the concealer from creasing while also working on your fine lines there.
We've rounded up the best ones in the market that deliver results.
But before we get into recommendations, there are a few other things you should consider and keep a lookout for when buying a concealer.
Comment below if you have any questions, We would love to know if this review helps you find your best under eye concealer that doesn't crease.
What to Look For When Buying a Concealer for Mature Skin?
Look for moisturizing and hydrating ingredients such as:
Antioxidants, peptides, vitamin C, hyaluronic acid, and more that help keeps the delicate under-eye area hydrated and youthful.
Hydrating ingredients and moisturizers in concealers also help to decrease the chances of creasing and caking. Lastly, look for SPF!
What Color Concealer to Choose for Mature Skin?
Another important thing to consider when choosing a concealer for your mature skin is the color.
As a general rule, when selecting under-eye concealer to cover dark circles,
you choose two shades lighter than your natural skin color as you want to brighten the area to look more awake and bright.
On the other hand, putting concealer on raised wrinkled skin with pimples can be tricky.
They will catch the light and naturally make them appear bigger!
So when it comes to raised skin, it's best to pick a shade that is not lighter than your natural skin color as you don't want to brighten the area or attract attention to it.
The same goes for blemishes, you will choose a concealer color that is similar to your skin tone.
What about Mature Skin for People of Color?
For a darker skin tone that is mature, you will pick a concealer color that is one or two shades lighter than your natural skin complexion.
It will blend seamlessly with your foundation and brighten any dark circles, giving you a more woke look.
Alright, now that all the nitty-gritty details have been settled, let's get into the specifics of which concealer makes the cut! Keep reading to find out the best concealers for mature skin.
This list is thoroughly researched (we've done the leg work for you). Your under eyes will be very thankful for any pick you take from this list.
Best under eye concealer for mature skin that doesn't crease (click the images to see prices)
1. Maybelline Instant Age Rewind Concealer for Dark Circles
Starting with a drugstore favorite! This one has a cult following for a reason (over 19000 reviews).
This multi-use concealer provides medium (but buildable) coverage.
The formula contains goji berries and haloxyl that improve blood circulation and increase hydration to reduce the appearance of fine lines, wrinkles, and discoloration.
The fuzzy applicator is perfect for dabbing on dark circles, blemishes, and wrinkles for a quick pick me up.
Another bonus is that it's super cheap.
Pro Tip: let the concealer sit on your skin for a few seconds before blending as it helps absorb it better.
2. IT Cosmetics Bye-Bye Under Eye Anti-Aging Waterproof Illumination Concealer
This full-coverage concealer is specifically formulated to work on mature skin.
It helps reduce the look of fine lines and wrinkles while also brightening and plumping the delicate area around your eyes.
Enriched in peptides and antioxidants, waterproof, and provides a finish that lasts 24 hours.
It's available in 48 shades and provides great coverage for dark spots, blemishes, and severe under-eye discoloration.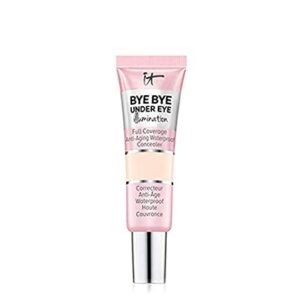 3. Estee Lauder Double Wear Stay-in-Place Flawless Concealer
Estee Lauder understands skin like no other brand, and this concealer is no different.
One swipe of its magic wand will even out your skin tone. The peachy undertones cancel out the dark eye circles with ease.
Available in 21 shades, it has a dreamy texture that easily blends into the skin without creasing or caking.

4. Benefit Boi-ing Airbrush Concealer
Trying to conceal redness can be tricky, but the Benefit Boi-ing Airbrush Concealer has down to a science.
It blends easily into the skin and gives a smooth coverage.
The color payoff is so good, helps hide dark under-eye circles and blemishes just as well as color correcting.
The only downside to this multipurpose concealer is the limited shade range. (Only 6 shades available).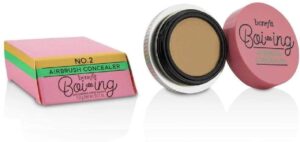 5. Glossier Stretch Concealer
If you adore dewy skin, it's time you invest in this gorgeous Stretch Concealer by Glossier.
Dab this under your eyes with a wet blender and watch it become a concealer/light foundation in seconds.
It doesn't flake when it dries and gives a glow that even strangers will compliment.
6. Charlotte Tilbury Magic Away Concealer
Another veteran in the beauty industry, Charlotte Tilbury, knows what the skin needs and their Magic Away Concealer is no different.
This full-coverage, long-lasting, dark circle reducing, color correcting, creamy concealer deserves a place in your vanity.
The concealer is easy to blend and buildable without looking cakey or creasing.
7. Tarte Cosmetics Shape Tape Concealer
There isn't a concealer list ever made that doesn't have this popular concealer on it!
This best seller is known for its silky formula and filter-like finish. It smooths out your fine lines and wrinkles as if they were never there before.
A must-have for all ladies!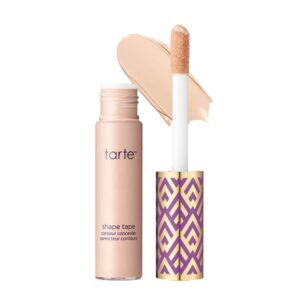 8. RMS Beauty Un Cover-Up Concealer
If you're a "no makeup" look enthusiast, this one is for you. Its lightweight formula is sheer yet non-drying.
Rest assured it won't settle into any of your fine lines or wrinkles. It is best for coverage of under eyes.
9. Fenty Beauty Pro Filt'r Instant Retouch Concealer
There isn't a color Fenty Beauty has not made.
Apart from being known for its wide shade range (over 50 options), this retouch concealer is a massive hit!
Its long-wear formula is crease-proof and perfect for mature skin.
Bottom Line
Choosing  the best under eye concealer that doesn't crease isn't so hard.
It becomes a lot harder when you get older and your skin becomes harder to deal with.
We hope this review gave you some good ideas, and that you find your best concealer soon.
If nothing from the list makes the cut, our tips on the best under eye make up for elderly ladies or the best concealer for mature skin will guide you to the concealer of your dreams.