Makeup For Mature Women skin (over 60) Guide
Are you concerned about your aging skin, wrinkles, and dullness?
Are you looking for some best ways to achieve a flawless look?
You're on the right place. This little make up for mature women guide will give you some great practical tips to instantly improve your look.
As we get older, wrinkles, fine lines, losing elasticity, etc. are natural things that happen to everyone.
You don't need to worry about these things. Instead, let's teach you how to easily outsmart these flaws.
Just sit back and enjoy our Make up for mature women guide which contains the best products and tips to make everyone wondering about your real age.
1. Start with a moisturizer
Probably the most important product among the makeup for mature women list is the moisturizer.
No matter how lucky you were when you were younger, the skin becomes drier as you age, mainly as a result of sebum production malfunction.
Well-hydrated skin is key to achieve a glowy and smooth foundation.
Choosing the right moisturizer will help to lessen the appearance of wrinkles and preparing your skin before starting to makeup.
Some best moisturizers which you can choose to apply before foundation for long-lasting makeup are:
Ultra Repair Firming Collagen Cream (click on the image to see if available)

First Aid Beauty Ultra Repair Firming Collagen Cream – Day & Night Anti-Aging Face Moisturizer with Collagen, Peptides and Niacinamide.
One of the best choices for problematic skin.

CeraVe Moisturizing Cream
CeraVe Moisturizing Cream restores the skin's barrier, keeps irritants out, it's non-greasy and fast-absorbing. Highly recommended.
Continue investigating – best moisturizer for aging and mature skin
2. Never skip a primer
To even out skin tone, well-hydrated, and long-lasting makeup with a smooth look primer is a must.
Introduce primer to your makeup routine for both eyes and face. Applying primer on eyes is a trick to get perfect eye makeup.
Primer will smooth imperfections like blurs large pores, lines, and add an instant hydrating boost. 
Here are 2 great choices:
TULA SKINCARE Face Filter Blurring & Moisturizing Primer 
This proper blurs and smooths pores, evens out the skin, adds an extra layer of foundation.
Highly recommended.
Lancôme La Base Pro Perfecting Makeup Primer
This amazing primer is super cool:
It absorbs quickly, gives soft look and creates a super smooth finish.
Click the image to give it a try.
Continue investigating – Best primer for aging and mature skin
3. Use a color corrector
It is a beauty technique to conceal blemishes and imperfections with specific hues.
The trick behind is to use opposite colors to cancel one color like to remove excessive redness, cancel it out with green.
Similarly, apply it under your eyes according to your skin tone. It can do wonders on your dark circles if picked correctly:
For light to medium skin, use peach-toned.
For darker skin, use orange-toned and for olive skin, use pink-toned
Here are the 3 color correctors we recommend. Just click the images to try and purchase.
Bobbi Brown Under Eye Corrector
Maybelline New York Master Camo Color Correcting Pen
NYX Cosmetics Color Correcting Concealer
And if you want to keep reading about concealers, here are 3 super interesting related tutorials:
overall review for the best general product: Best concealer for mature skin
Specifically for concealers that won't crease: Best concealer that doesn't crease
Having under eyes issues? Best under eye makeup for older women
4. Use cream/liquid foundation 
The foundation is probably the most popular item in the make up for mature women kit.
Choose a lightweight creamy or liquid foundation that blends easily.
Never use powdered or dry foundation or you will lose the makeup game.
Choose a foundation with 1 or 2 shade warmer so you don't look washed out.
Choosing a light-toned foundation will give you a dramatic look.
Apply a glowy and smooth foundation and blend it well with a foundation brush or a blender.
After the face, take a foundation brush and blend very slightly around the neck so it doesn't look obvious.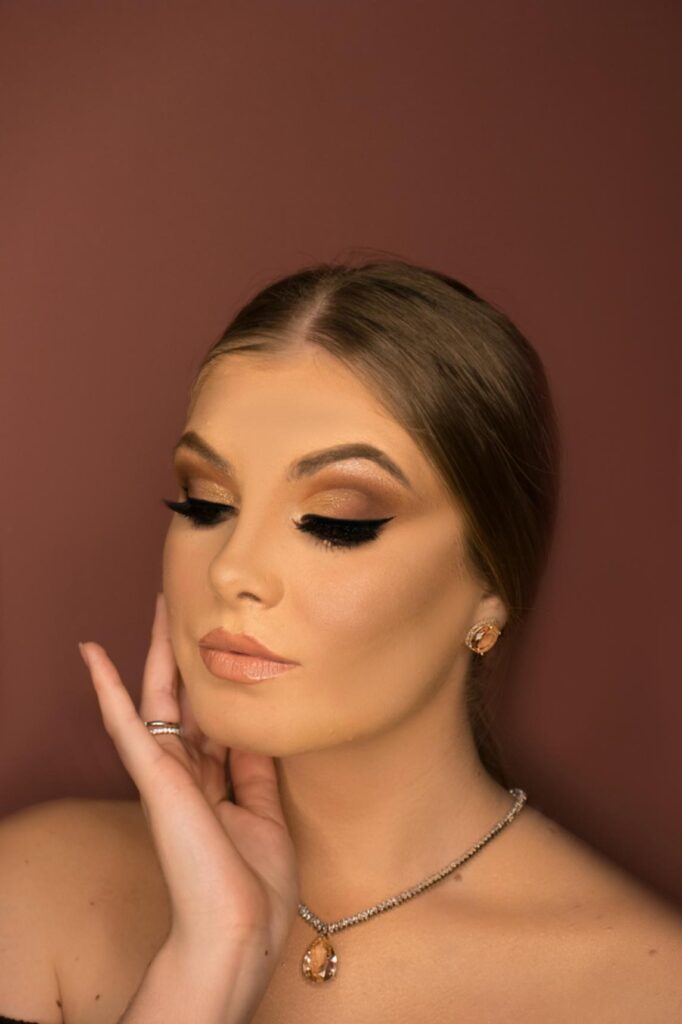 5. Warm up your skin
You need to warm up your cheekbones and jawlines to lift your face features. Use a bronzer to apply on your cheeks and neckline. Blend perfectly to give a natural touch. 
6. Make a new eyelid crease 
Aging eyes might be unattractive. They rob your lids of space when they are deep, saggy, or hooded.
This draws attention to the droopy overhang and reduces the eye shape and size.
Forget the traditional guidelines of using a darker shade for contour and putting a faint shadow on the lid when applying makeup.
On the lid, with the help of medium shade, go to the darker color, start blending from the lash line and extend it above your natural crease.
Ensure that the edge of the arc must be soft. By this illusion of a fake crease, the lash will be expanded to crease space, the overhang will be pushed back, and a very bigger and stronger shape of the eye will be formed, even before applying liner.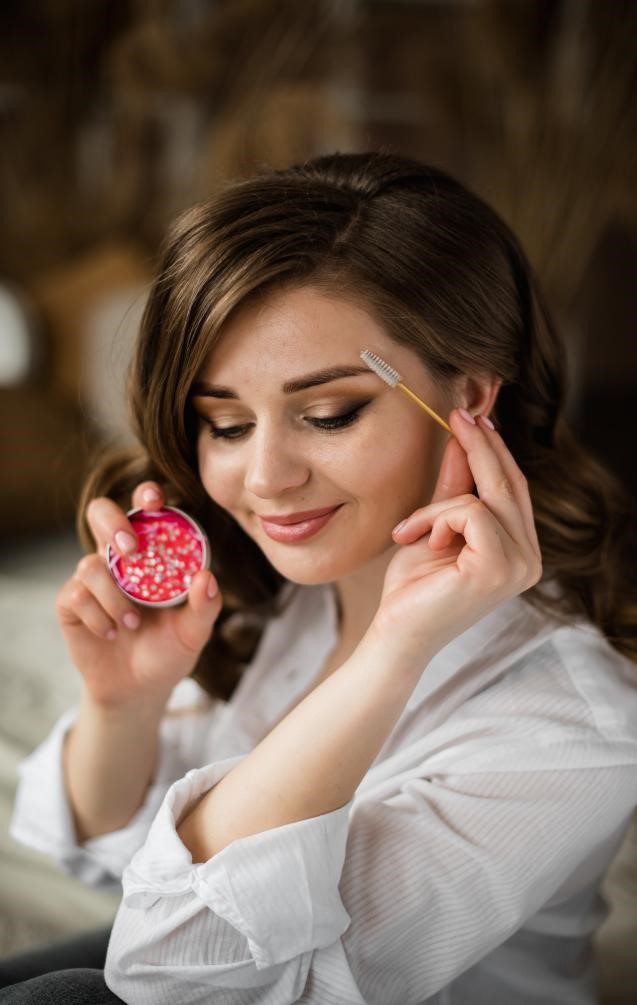 7. Focus on your eyes
Y have to make your eyes look bigger. Big eyes look youthful.
Make sure your Makeup for mature skin over 60 kit contains what it takes and let's start:
With the help of an eyelash curler, curl the lashes, start curling the right lash from the root.
Next, you must select the right mascara that needs a reasonable amount of tests and mistakes.
For mature women with brittle and thinner lashes, most thickening formulas don't work.
Using mascara causes the lashes to look clumpier. This kind of look might not look so good as we start aging.
Old style would use brown exclusively but now days it's more than ok to use black. Between the liner and color, you should have to contrast. If the right brown color is not used or applied, it will make you look tired.
The eye shadow is more like a personal style accessory if you like, but mascaras and eyeliner are essential stages. Don't apply or plop a shadow on the lid center. For applying, use any small brush. Start applying from one side or corner of the eye to inward; the shade color will get lighter gradually. By this, your eye will be wider and bigger.
Recommended products for eyebrow
Recommended mascaras
Recommended eyeliners
Lancôme's Le Crayon Khôl in black coffee (creamy-smooth pencil that glides effortlessly and blends well)
Stila Stay All Day Waterproof Liquid Eye Liner (gives variety of eye-opening effects, easy to useperfect for every time)
Due to aging, your lips can be asymmetrical.
Use a lip pencil to balance the lips. Use only great pencils. The pencil must glide on the skin the second it meets it.
Experts advise drafting in four distinct strokes, beginning from each of the four outside corners and going towards the center of the bottom lips or the Cupid's bow to achieve symmetry. She explains, That manner, your lip will become more symmetrical. Use the lipstick in the same way and use a lip brush to disperse the edges to make the appearance softer.
NARS Velvet Matte Lip Pencils
Revlon Ultra HD Matte LipColor
L'Oréal Age Perfect Luminous Hydrating Lipstick
Clinique Pop Lip Colour
Pro tip: apply skincare upward and outward
A good skincare truly does assist in gravity resisting, saggy skin and deep expression lines.
Working from the middle of your face outward, apply oils, creams, and serums in gentle sweeping motions. In the short term, it stimulates circulation, aids product absorption, and feels relaxing; it reduces the downward pull in the long run.
In this age of social media, we all are impressed by influencers and beauty bloggers, somewhere in our hearts, we wish for that flawless skin and glam makeup look.
But remember that no one is perfect. Everyone has some flaws and don't you dare think that you can't apply makeup because you are growing old.
Makeup is made for women and it doesn't matter at which age you are, you can apply it and wear it confidently. Just need to look at which products and which look will suit you so It never looks too dramatic not too dull. Treat yourself with what looks good on you and let the magic begin.
If you liked that post, we also wrote some of the easiest makeup tips for older women for busy women. give it a try. Feel free to share and contact for any question.
If you like our tutorials, go ahead and read our best concealer for mature skin or one of out foundation reviews: best foundation for over 50 and best foundation for over 60