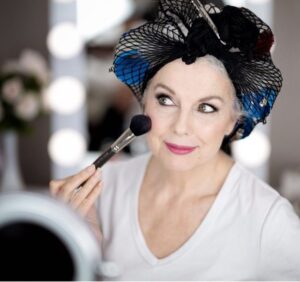 Why should older women wear makeup?
Getting older doesn't mean you have to start struggling with your makeup. Yeah, I know, it was pretty easy up until now and though it might be a bit frustrating in the beginning, makeup over 50 is your new friend and can work even better when you grow older. The only catch is that you'll need to expand your makeup skills a bit.
We all know that first impression really matters, so how we portray ourselves is significant. There's something alluring about a woman who is confident — and at ease — in her own skin and appearance.
We have a need to put on our prettiest face and be proud of who we are which is exactly why it is important for us, elderly women to apply makeup. It's not only about self esteem, it's also about managing it.
Every woman on this planet wants to look and feel better. Makeup is a relatively easy solution for that. Using a small amount of color and definition will instantly make your skin look better, healthier and younger. Every woman knows that, but in your 50's and on, it might start getting a bit trickier. The good news is that it's also relatively easy to learn what it takes to look good, get it done.
Makeup, when applied correctly, may transform your appearance! What's wrong with still trying to draw your partner's attention? Or be one of the hottest women at work?
Leaning how to use your makeup to become "the handsome you" is easy. However, I'm literally begging you not to embrace the current trend of strong brows, artificial eyelashes, and winged eyeliner. On an aged face, they might appear more theatrical than appropriate.
The key is subtlety and you can do anything but in good taste.
To Improve Self-Esteem and Confidence
We still live in a visual world where society judge us based on our appearance. As our skin start losing its smoothness, our feeling of self physical attractiveness. Taking the time and trouble to improve your look will make you feel better. Looking good at your 50's also shows that you know how to take care of yourself
Makeup over 50 (Skin Care Routine For Women Over 50)
It's prime time to take care of your skin and provide everything it requires. The following tips are EASY and will do the job.
Makeup should always be cleaned before going to bed.
Breakouts and rashes can occur if you sleep with your makeup on. Skin becomes irritated and reactive because of residual makeup clogging pores. Rinse your skin with another gentle cleanser and make it a habit. Actually, makeup or not – cleaning your face before going to bed should be every woman's routine.
Increase your intake of fruits and vegetables.
Sugar, salt, bad fats, and refined foods are all common ingredients in processed foods. Those substances are absorbed by your body and have no beneficial effects on your health or skin. Eat more fruits, veggies, and healthy grains instead. These nutritious meals supply your skin and body with the vitamins, minerals, and other nutrition they require.
Fats aren't all made equal. Omega-3 fatty acids provide plenty of health advantages, including the ability to enhance your skin. You may achieve your daily requirement by eating fish and taking fish oil or flaxseed oil supplements. Another healthy fat to use in cooking is olive oil. For topical advantages, several skin care products include olive oil in their composition.
Instead of soda, drink water.
Soda's high calorie and high fructose, corn syrup content aren't good for your waistline or skin's radiance.
Hydrate your skin by drinking at least 8 glasses of water every day. To add flavor to your water, squeeze a lemon into it. If you like drinking without sugar, tea can also be great. Especially green tea.
Simplify your skin-care routine.
There's just so much that creams and lotions can accomplish. Always prefer quality over quantity. Take your money and schedule an appointment with a credible board-certified dermatologist to get the details. Then, according to the details, find an easy, low-cost if needed, skincare routine that suits your age, requirements, and budget and stick to it. In this post, i also talk about some of best makeup over 50 brands, keep reading.
Apply sunscreen Everyday.
One of the most effective methods to avoid premature ageing and skin cancer is to limit your exposure to the sun. Even if it's an overcast winter day, use sunblock with UVA/UVB protection every day.
Picking pimples is not a good idea.
Bruising can result from picking at pimples. Dermatologists and other skilled experts can clear your blemishes of dirt and congestion. Do not remove pimples on your own.
Take care of your skin by moisturizing it.
After you've showered, apply lotion right away. Moisturizer will soften your skin and lock in any remaining hydration.
Showers should be shorter.
Long showers dry your skin and cause wrinkles on your fingertips. Showers and baths should be kept to a minimum. After that, gently towel dry the skin to keep a layer of moisture on it.
Tips for Older Women To Apply Makeup
For applying makeup over 50, there are a few key tips that every woman should know. Let's talk about makeup for older ladies who wish to emphasize their greatest features while minimizing their defects. Here are some ideas to help you get started:
Keep your skin hydrated at all times
Hydrated skin is half the fight, no matter how old you are. Apply your daily cream gently after washing your face with warm soapy water or your favorite cleanser. When looking for a daily cream, a good makeup over 50, is the one that has vitamin E or Coenzyme Q10, since these ingredients help to minimize many aging symptoms.
Selecting the best primer for mature skin may be difficult since you need one that can help you conceal those traits that irritate you, such as deep wrinkles, blemishes, and circles under your eyes. Choose a primer that isn't too oily, as these might crease into lines around your eyes and lips, and use it all over your face or in particular areas, depending on your concerns.
Color correction and concealer
Fighting with dark circles beneath the eyes can be difficult, but it's nothing that a good color correction can't fix. The idea is to apply a negligible quantity of color-correcting concealer with your finger to hide those dark circles. After that, some cosmetic experts recommend finishing the concealment with a flesh-toned concealer.
Finding the best foundation for aging skin is just as difficult as finding the right primer, and the key is to select one that best complements your skin tone. You may use a brush, sponge, or your fingers to apply liquid foundation, but the key is to keep it light and embrace your wrinkles — the aim is to enhance your natural beauty and give it a hint of shine, not to bury it behind layers of foundation. For makeup, remember that little is more.
A touch of blush to highlight those cheekbones.
For blush, the most important thing to remember is not to overdo it. Blush gives you a shine or makes you seem rosy, but if you apply too much of it, you'll be hiding rather than highlighting the beauty of your cheekbones. So use a small amount and remember to smile while doing so.
Use High-Quality Products.
For cosmetics, choosing high-quality items is quite important. After all, you'll be putting them on your face and around sensitive regions like your eyes, so be sure they're of excellent quality and don't cause any allergies or other skin issues.
9 great "makeup over 50" brands for aging skin
When you are in your 50s, it is necessary to use the high-quality and natural products for your skin. It is always advised to stay from harsh chemicals that damage your skin.
Your hands are as important as your face, so, using a hand cream is vital.
Ahava's mineral hand cream smooths the skin, the smell is amazing, and your hands will be hydrated for hours, making it one of the greatest hand creams on the market today.
LAVIDO Alert eye cream is one of the best out there. It brighten, moisturize, and minimize the appearance of fine lines and wrinkles around the eyes. Alert is vegan, recyclable, and gluten-free, and includes avocado, pomegranate, and citrus extract.
Vitamin Based Priming Moisturizer
You don't want to use a product that's too thick, though, because it'll mess up your makeup. For individuals with older skin, a vitamin-rich and lightweight moisturizer like Bobbi Brown's Face Base Priming Moisturizer will keep makeup from sticking to wrinkles and dry areas while also giving skin a smoother, dewier appearance.
Untraceable. Unstoppable. Nothing else beats. The NARS long wear foundation finally become more lightweight. High coverage is now considered quite natural. Its breathable, fade-resistant composition is packed with Raspberry, Apple, and Watermelon extracts too quickly and gradually smooth and enhance the appearance of your skin. It lasts longer. Maintains its strength. With each passing hour, it appears to be getting better. Skin-matching technology guarantees the most natural fit possible.
Cream blushes are a dream come true. They're simple to apply, don't seem cakey, and don't fade away after a few hours. Use your fingertips to put in a little cream blush instead of a powder blush on top of your makeup.
When applying foundations, blushes, or primers with your fingertips, you'll warm up the product and stimulate blood flow, giving you a wonderful glow. Glowgasm Beauty Light Wand delivers a kiss of rosy pink color to your cheeks for a stunning, luminous highlight-blush and is inspired by the beautifying benefits of fun! It wonderfully manipulates light for a gentle, concentrated glow that bathes you in beauty, light, and delight.
For women over 50, it is highly necessary to keep your lips nourished and hydrated. To us, lip beauty is a creamy, buildable lipstick with the soothing qualities of a balm. L'Oreal Paris Age Perfect Luminous Hydrating Lipstick is the perfect daily lipstick, with a sheer wash of color and a light-catching shine. This product has a luxurious, weightless sensation thanks to a combination of caring ingredients like serum vitamins and minerals.
Fine lines are annoying, especially when makeup highlights rather than conceals them. Any "bridges" between your wrinkles will be filled in with this CLINIQUE line smoothing filling concealer, and shadows will be countered with skin-brightening elements, so your dark circles won't stand a chance. Because this wearable product lasts all day, you may apply it as thickly as thinly as you wish. Clinique's products are also free of the most common allergies.
Makeup Highlighters are often regarded as the "secret weapon" for achieving a healthy, bright glow. They can actually turn back the hands of time. They can make you appear ten years younger in minutes. An excellent highlighter cream may reduce the appearance of lines and wrinkles, reduce the appearance of under eye circles, and reduce the appearance of a broad nose, sagging chin, or drooping eyes.
Charlotte tilbury Flawless Hollywood Filter liquid highlighter has a gentle glow and may be used alone or combined with foundation to create a dewy look. Simply dab Hollywood Flawless Filter over the parts of the face you'd want to brighten and blend. It's as simple as that, and it's flawless!
Conclusion
Everyone is unique and there is no "why" for any age group. It's completely okay if you love to wear makeup in your 50s. There is nothing wrong with wearing makeup over 50, on the contrary.
You only have to keep a few things in mind like testing makeup at right places, using the products outwards, keep your skin hydrated and use high-quality products.
It is your life and you can live it according to your choice. Feel confident and boost your self-esteem by wearing makeup.
Look attractive and get all eyes on you even in your 50s.