The following post – beauty tips for women over 50 is for you: any woman above the age of 50.
Makeup for elderly ladies is an important subject which is very low on good information,
which is exactly why we made this tutorial.
Simply follow the tips below to become good at looking good while embracing your age.
By all means keep following, there will be more guides and much more updated content. Enjoy.
As we get older, keeping up with the slogan "wear the makeup, don't have it wear you" could be a tad difficult due to changes in our skin.
These changes usually starting to appear during menopause,
unlike our early 20's and 30's where we didn't have to worry about changes in skin conditions due to aging, such as wrinkles, fine lines, and dry skin.
You would probably agree that this could affect the wear and appearance of our makeup. Well, your makeup skills don't have to go south if you apply the following tips and techniques from experts to help amp your makeup game.
1. Beauty tips for women over 50 – It all starts from the base. 
If you haven't built the foundation of a house according to standard, whatever structure you build on it would crumble sooner or later.
Here are some beauty tips for women over 50 – how to apply the base the right way.
The same rule goes with the base (i.e. – the skin) where we apply our makeup products.
Well-hydrated skin is the best base for makeup application, whether you are in your 30's or 70's. This is the first rule of a thump for a successful makeup application. Hydrating the skin ensures your makeup products are applied evenly and prolongs the wear.
However, as we grow older, the skin isn't as hydrated as it used to be, and less sebum is produced. This could make the skin dry and sometimes flaky. Thus, a good skincare routine is essential to maintain normal skin conditions.
Before makeup application, you should prepare the skin by cleansing up the skin, preferably with a facial wipe, applying skin toner, and moisturizing the skin. This will help hydrate and ensure a seamless application of makeup products.
Moisturizing is vital for mature skin because it helps reduce the appearance of fine lines and wrinkles. This should be carried out with the fingers as it warms up the skin.
When choosing a moisturizer, you should opt-in to keep the hydration level balance. You should also check for active ingredients such as shea butter, bee wax, and olive oil that create an emollient canvas.
The embryolisse moisturizing primer has a 2 in 1 benefit as it acts as both a moisturizer and a primer.
Cerave moisturizer is another good product that is dermatologically tested.
It also contains hyaluronic and ceramide, which helps hydrate the skin and restores its natural barrier.
2. beauty tips for women over 50 – A primer is no more just "optional"
One of the best beauty tips for women over 50 is to NEVER underrate the role of the primer to your facial skin.
There are a thousands of reasons why you should always use a good primer when wearing makeup, especially for older women.
Some of the benefits are:
It enhances your foundation to glide on smoothly and evenly.
A good primer will help fill in large pores.
It keeps your makeup in place.
Moisturizing primer creates a hydrated, radiant, and more youthful look. 
However, Primers aren't only for the face, there are primers for the eyelids and under-eye.
If you haven't seen our older women eye makeup tutorial – this is the time
Primer for the eyelids enhances the eyeshadow application and is as important as priming the undereye area. Priming the under-eye area is a makeup application step that a lot of women tend to overlook. In mature skin, they tend to be more wrinkles under the eye, so priming this area helps prevent concealers and foundation from settling into fine lines. In addition, the C-Tango Multivitamin Eye Cream creates a seamlessly smooth undereye base.
3. Beauty tips for women over 50 – Never skip a Foundation
In your 20's and 30's, you could opt for a full coverage foundation, and it will sit well with your skin.
For women over the age of 50 and above, a full-coverage foundation could create a cakey look.
This can also increase the appearance of fine lines and wrinkles.
Among our makeup tips for older women – we recommend to use a lightweight luminous foundation that is a shade slightly lighter than your skin tone.
This will do the trick to produce a more radiant second-skin finish.
Notwithstanding, when blending in your foundation, start from the center of the face and move outward to blur out any harsh line. A makeup brush could help facilitate this process.
Celebrity makeup-artists Sandy Linter recommends the Kevyn Aucoin, The Etherealist foundation, for a radiant natural finish. You can also use the L'oreal Paris age-perfect makeup radiant serum foundation, a sun-screen foundation with SPF 50 that gives a second-skin finish.
 If you are not a fan of a foundation, you could apply a BB or CC cream.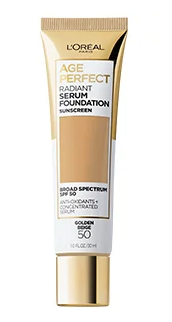 4.  Go easy on the eyebrows
As we grow older, brow hair tends to become sparse. Therefore, a brow filler could come in handy.
Brow filler like the milk makeup kush fiber brow gel can help accentuate a more natural look while filling in the brows. You can also fill in the brow lightly with a brow pencil such as the Revitabrow pencil.
5. Be subtle in your eye shadow application
"Less is more" is a tip you should always keep at the back of your mind for a softer look during eyeshadow application for older women.
A more pronounced look like applying pigments and glitters will give a dramatic look for mature skin.
Therefore when you use eyeshadow colors – you should always keep it in between light browns, mauve, and tapes with a little shimmer, if you would like a step further. 
Always apply eyeshadow after priming the eye. This will help neutralize the dark circle under the eyes.
But, depending on what works best for you, you can decide to start your makeup application from your eyes to prevent fall-out from settling into fine lines and wrinkles, which could darken the look of your makeup. Or, after applying your foundation, you could use an
eyeshadow shield to prevent fall-out from ruining your makeup.
6. Eyeliners
Over the years, there has been a popular belief that women over 50 shouldn't use black eyeliners.
Contrary to popular belief, this is not true.
If there is a contrast between the eyeshadow and eyeliner – you should use Black eyeliner on mature skin
However, always take into consideration the shade of the eyeliner.
For example, you could apply a black eyeliner that suits women of different colors, such as the Lancome Le Crayon Khol in Black Coffee.
A trick to make your eyes brighter and bigger is by lining your waterline. Also, a nude or black eyeliner can help the eyes look more awake.
7. Use a Concealer to cover up conservatively
The eyes are the windows to the soul, and they are the first thing people tend to notice.
A lightweight concealer can conceal or reduce the appearance of wrinkles and other aging skin conditions.
However, you should avoid layering on concealer to hide all imperfections as this may do more harm than good. Layering on concealers could result in a cakey look and add more years instead of subtracting them.
8. Powders should be placed where needed
You should place your powders in areas where the skin gets oily the most, such as the T-zone, side of the nose, and smile lines. Over powdering could increase the appearance of
smile lines and wrinkles. Overall. Less powder should be applied to prevent accentuating aging. The bye-bye pore powder airbrushes fine lines and imperfections away.
9. Invest in a good cream blush.
Aging causes the loss of natural flush. Applying a cream blush will help you recover it. Also, picking the right shade will help give a more radiant look in few minutes. Hourglass Cosmetics global director of education, Marc Reagan, advises that pink and peach blushes are best suited for medium to light skin tones, while red tones work well for medium to dark skin tones.
The phoera cream blush and Stila convertible color are good cream blushes you could use. However, to get an extra -impact, you can set- in with a powder blush.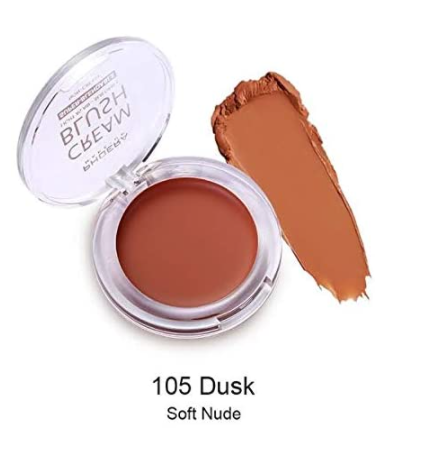 10. Avoid highlighting your cheek
As an "don't do" tip in our beauty tips for women over 50 list – applying a highlighter on the cheek can help accentuate a glowy look. However, it should be avoided for mature skin as this could draw attention to wrinkled areas or areas where the skin sags.
11. A little lip balm and lipstick never hurt
Prepping the skin for makeup doesn't end with the facial skin. A lip balm prevents the lips from getting chapped and moisturizes lips, making them look plumper. You should prep your lips for lipsticks or lip-gloss application.
A common feature of women of ages 50 and above often times have asymmetrical lips, lining the lips will give a better definition. If the lips are extremely small or you decide to opt for more plumper lips, you can line outside the natural shape of the lips, smooth out the inner and outer edges in which you have lined, and add gloss to give a fuller and plumper look.
 Nude and light pink lips are well-suited for older women. The Nars Velvet Matte Lip Pencil glides smoothly on the lips and is one of my absolute favorite lip pencils.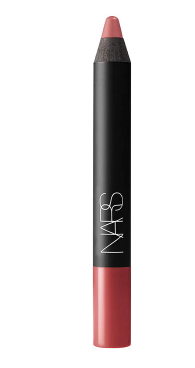 12. Avoid mattifying products and embrace hydrating products
Since mature skin gets drier with age, you should try as much as possible to use
products that are hydrating and will embrace the oils on your face. This will further give a radiant and natural glow.
13. Final seal
To complete your makeup look, set your makeup with a hydrating and luminous setting spray. This will help your makeup last longer.
The MAC prep and prime fix + makeup setting spray are one of my absolute favorites. This setting spray makes all products applied on the face to sit well on the skin and prolong the makeup's wear.
MAC prep and prime fix+makeup setting spray
14. The greatest trick of all; glowing, healthy skin.
The best way to maintain a youthful and radiant look is a good skincare routine that keeps the skin healthy and also amplifies your makeup application. In conclusion, the best foundation you can wear is glowing, healthy skin; nevertheless, makeup is great, but great skin is better.